Composition
| | |
| --- | --- |
| Ivermectin | 20 mg |
| Vitamin A (propionate) | 500.000 UI |
| Vitamin D3 | 75.000 UI |
| Vitamin E | 50 mg |
| Excipient q.s. | 1 ml |
Indications
Lhivermectin AD3E is an Injectable antiparasitic vitamined solution indicated for the treatment and control of gastrointestinal, pulmonary and other internal organ parasites, as well as parasites of the skin and subcutaneous tissue present in several domestic species, but mainly in cattle, swine, and sheep.
Target Species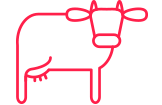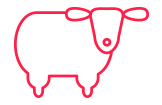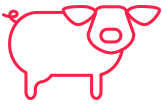 Dosification
Cattle: administrate 1 ml per 100 Kg per body weight Sheep and deer: administrate 0,5 ml per 50 Kg per body weight. Swine: administrate 1 ml per 66 Kg per body weight This product must be administrated, In all species by intramuscular route
Suppression Period
Cattle: meat: 35 days. sheep and deer: meat: 28 days. Swine: meat 18 days. Not for use in lactating cows which milk is meant for human consumption, nor 28 days before the delivering.